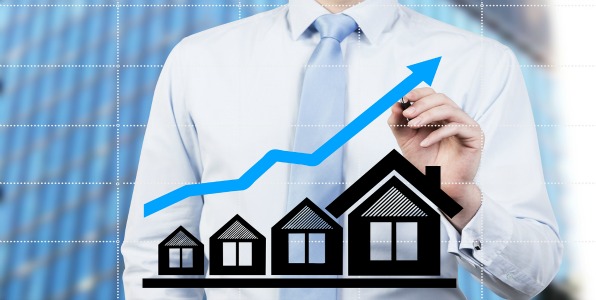 Economic strength, wage growth and more opportunities for jobs are expected to help boost the number of home sales and increase home prices in 2018. However, low inventory and weakening affordability is likely to keep these figures from accelerating rapidly.
Lawrence Yun, chief economist for the National Association of REALTORS® (NAR) presented his 2018 midyear forecast at the 2018 REALTORS® Legislative Meeting and Trade Expo recently, stating that a moderate, multiyear increase in home sales and home prices is most likely in our future. After jumping 3.8 percent in 2016, existing home sales only gained 1.1 percent to 5.5 million in 2017 and are expected to end 2018 at a pace of around 5.6 million (up 1.8 percent). Yun predicts 2019 sales will come in around 5.7 million.
"Overall fundamentals remain solid, driven by a growing economy and steady job creation, which will sustain home sales in 2018 slightly above last year's pace," said Yun in a recent NAR press release. "The worsening housing shortage means home prices are primed to rise further this year, too, hindering affordability conditions for homebuyers in markets across the country."
Yun drove home the point that the housing shortage is a significant factor in holding back home sales. Although home sales in the U.S. have risen slightly since the beginning of 2018, Yun says more supply is needed to fully satisfy demand and alleviate the upward pressure on prices. Therefore, contract activity is likely to remain flat and move sideways for the remainder of the year.
Housing Inventory
Total housing inventory at the end of March came in at 1.67 million existing homes available for sale. This is 7.2 percent lower than March 2017, when the figure was 1.8 million. Supply has steadily declined over the last five years, explained Yun, putting the nation at its lowest inventory levels in a generation. At the time of this writing, unsold inventory was at a 3.6-month supply at the current sales pace. In other words, that means if homes keep selling at the rate they are now, in less than four months there would be no more homes left on the market for sale.
Typically, markets need at least a 6-month supply of homes for sale in order to have a balanced market, where the level of supply is enough to satisfy demand. Anything lower than six months is usually considered a seller's market; anything higher is usually considered a buyer's market.
What Lies Ahead
Also speaking at the expo, Danielle Hale, chief economist at realtor.com, agreed there is a shortage of inventory, especially affordable inventory. According to the popular real estate listing website's data, there were 250,000 fewer starter homes for sale at the time, than there was two years ago in May 2015. (Realtor.com considered homes priced below $200,000 as starter homes.)
Despite the intimidating data, Hale expressed optimism for what lies ahead.
"There is reason for optimism ahead though," said Hale. "We are starting to see new listings grow in recent months; the inventory shortage isn't over, it took us years to get into an inventory rut, so it's going to take us years to get out of it, but we do see signs of a turnaround."
Growth in Home Prices
Between 2011 and 2017, home price growth has increased 48 percent. What's more, the rate of price growth is expected to continue to rise an additional 4 percent in 2018 alone. The concern for many economists isn't just the higher prices–it's the fact that the prices are far outpacing income growth, which grew only 15 percent in the same timeframe. Add the likelihood of increased mortgage rates in the near future and affordability becomes weaker.
"Challenging affordability conditions have prevented a meaningful rise in the homeownership rate after having fallen to a 50-year low a few years ago," said Yun. "To increase homeownership, more home construction is needed, which could be boosted by delivering regulatory relief to community banks, removing the lumber tariff, re-examining stringent zoning laws and training more workers for the construction industry."
For Further Reading
Millennials take the lead in new home buyer growth
Sudden drop in millennial homeownership points to weakened affordability