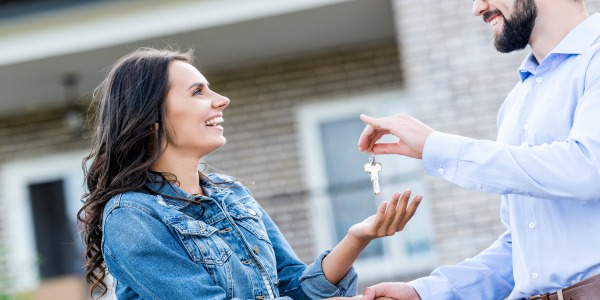 Looking for a mortgage that doesn't require a large down payment? Or one that's accessible to people with less-than-perfect credit? If you meet certain requirements, a USDA loan could be right for you.
In today's post, we'll explore USDA loans and offer three key reasons to consider choosing this affordable mortgage program for your next home purchase. Before we dive in to the benefits of USDA financing, let's review the basics of a USDA loan.
What is a USDA Loan?
A USDA loan is a special type of mortgage that is insured by the federal government and is designed to help increase homeownership in rural parts of the country. The United States Department of Agriculture (USDA) backs the loan, making it a less risky loan product for mortgage companies and banks.
Through this government-insured loan, eligible borrowers can purchase a home with up to 100% financing, i.e. no down payment. The fees that are associated with USDA loans are typically lower than those associated with some other low money down loans, making them one of the most affordable zero money down loan options in today's marketplace.
USDA Loan Eligibility
In order to qualify for USDA home financing, borrowers must meet certain income and credit requirements. And as with any loan program, USDA borrowers must demonstrate a reasonable ability and willingness to repay the loan. Where USDA loans differ from traditional mortgages, is in the specifics of the property. The home being purchased must be located in an area that is approved by the USDA. Generally speaking, these areas are rural or outside of city limits where populations are lower. Furthermore, in order to qualify for a USDA loan, borrowers have to earn within a specific income range. It is possible to earn too much money to qualify for USDA financing. Visit the USDA website to learn more.
Three Reasons to Choose a USDA Loan
Now that you know a little bit more about USDA loans, take a look at the three main reasons you should consider one for your next home purchase:
1.) Open to First Time or Repeat Buyers
You do not have to be a first time buyer to take advantage of this affordable home loan program. Both first timers and repeat buyers may be eligible.
2.) 100% Financing
Not having to put down thousands of dollars up front can make a huge difference to cash-conscious home buyers. Since the USDA loan program allows up to 100% financing (no down payment), borrowers can use their hard-earned savings to help pay for other home buying expenses such as hiring movers, setting up utilities, buying new furniture, etc.
3.) Low Credit is OK
It's a common misconception that mortgage borrowers have to have perfect credit in order to buy a home. With the USDA home loan program, buyers with lower credit scores may still be eligible for affordable financing. Naturally, the better your credit score, the more likely you are to get a better interest rate; however, borrowers with scores as low as 640 may be eligible.*
*Based on the USDA guaranteed underwriting system. Different mortgage lenders may have different minimum FICO score requirements. Check with your loan officer for details.